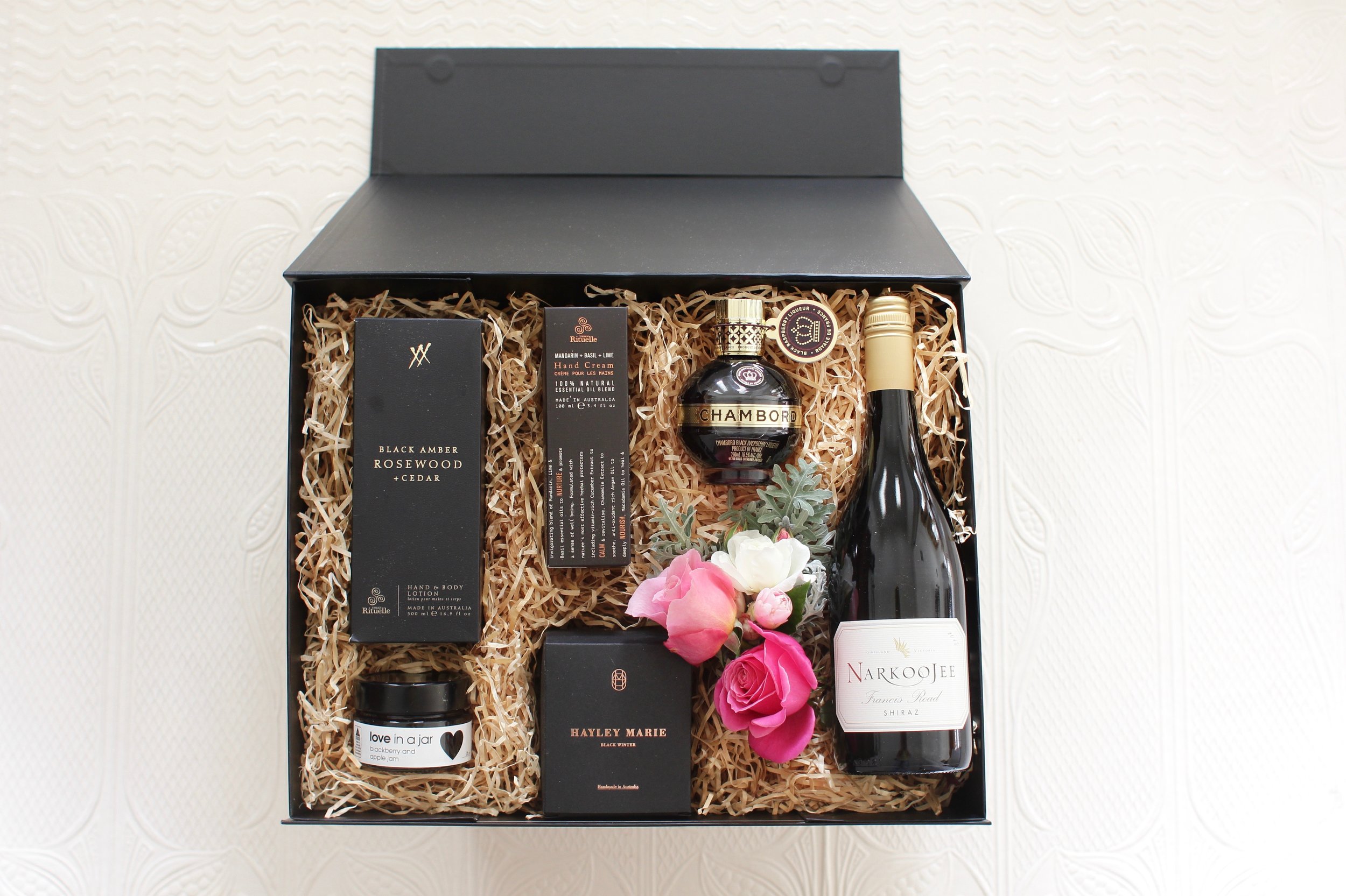 Valerie Gift Hamper Box
A beautiful and luxury gift for a very special lady in your life. This gift is perfect for an anniversary, birthday or 'just because' gift.
This one-of-a kind gift box comes beautifully presented in a large black keepsake box with magnetic lid and wrapped with ribbon. Our gift hamper boxes are hand-delivered for free locally every Friday with a seasonal floral accent on top. Orders being shipped take between 1 - 3 days to process, after which you will receive an email with tracking information. Your gift is sent with a hand-written note and no pricing information.
Your gift box includes
Francis Road Shiraz by Narkoojee
(please note this can be swapped over for the Sparkling Harriet by Narkoojee if preferred).
The fruit for this wine was handpicked from our estate plantings and is named after the vineyard address to emphasise its terroir. The warm 2016 season produced fruit of optimal ripeness and flavours with excellent acid retention. This is a lovely, generous shiraz, showing black berry fruit and spicy oak which will repay cellaring for ten years or more.

Lily of the Valley & Patchouli Candle by Hayley Marie Candles
Let your mind enter a fresh garden every time you lite our Lily of The Valley and Patchouli candle. Revitalise your senses with top notes of green Lemon, Bergamot and Lavender leaves. Within the heart notes is the delicate flower, Lily of the Valley, and with it is a melody of floral fragrances plucked from a bountiful garden: Patchouli, Geranium, Magnolia, Mimosa and Jasmine.
Black Amber, Rosewood & Cedar Body Lotion by Urban Rituelle
A dark & evocative blend of exotic rosewood on a base of sensual black amber and woody spiced cedar to create a magical mystical fragrance. Rich in vitamins, antioxidants and nutrients, this natural formulation has a remarkable ability to deeply nourish, tone, energise and promote skin renewal. The pure synergy of rosehip, avocado & argan oil works to restore moisture balance, while soothing cucumber & chamomile leave the skin soft, supple & radiant.

Black Raspberry Liquor by Chambord Channel
This black raspberry liqueur is crafted in the province of Chamord, at the site of the real French chateau, with the finest ingredients. For wonderful Chambord Cocktails click here.
Mandarin, Basil & Lime hand cream by Urban Rituelle
This all natural, skin nurturing hand cream combines 11 essential plant-based ingredients for restoring dry skin. It combines an invigorating blend of mandarin, basil & lime pure essential oils.

Strawberry & Pimms Jam by Love In A Jar
Using all natural ingredients and a lot of fruit this jam is the perfect addition to spread on toast or just by the spoonful!