The Rugged Man Gift Hamper Box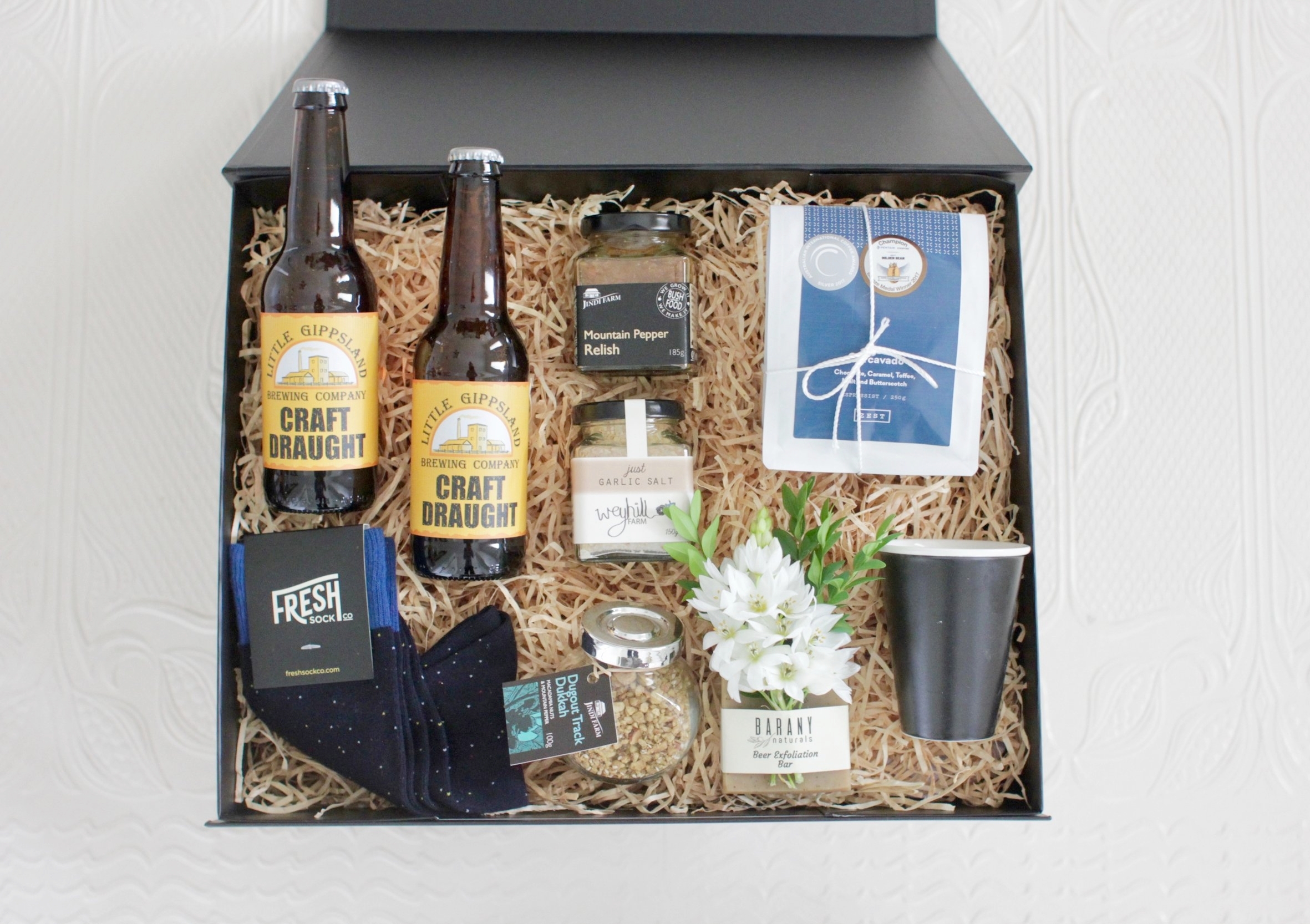 The Rugged Man Gift Hamper Box
A handsome collection of premium 'manly' items this gift hamper is certain to please even the most fussiest. Perfect as a special birthday gift or to the groom to be on the morning of his big day.
This one-of-a-kind gift comes gorgeously wrapped in our signature large black momento box and adorned with a fresh seasonal sprig of greenery (local deliveries only). Free delivery for selected towns in Gippsland and a flat rate of $15 Australia-wide.
Craft Draught by Little Gippsland Brewing Company x 2
This golden coloured beer exhibits a slight fruity hop aroma, low bitterness and a subtle malt sweetness. 100% of the profits from the beer goes towards community projects in Gippsland, how amazing is that!
Espressist Corcavado - AICA 2017 Silver Medal Coffee Beans by Zest.
Your coffee experience doesn't start with your first sip, it begins at the origin, and travels through several passionate hands before even reaching your mouth. The moments in between are where some of the truest joy exists. Slow down your pour and take it in, make your next cup a true experience.
Latte Cup
Black latte cup which is both handsome and functional. Perfect to enjoy your morning ... and afternoon coffee in.
Addition Patterned Socks by Fresh Sock Co
Everyone deserves a sock drawer of colour!
Mountain Pepper Relish by Jindi Bush Food
A traditional tomato and onion based relish with a touch of Australian Mountain Pepper Berry leaf to enhance flavour.
Jindi Farm is a family run business priding itself in fresh, quality Australian bush food products. Located in the foothills of the Baw Baw Ranges in Victoria, Australia, Jindi Farm grows a range of year round and seasonal native Australian bush foods.
Garlic Salt by Weyhill Farm
Sunday roasts love Garlic Salt, so too does roast vegetables, roast potatoes, really who doesn't love a little bit of garlic salt; the perfect all-rounder. At Weyhill Farm, we're about growing great garlic naturally. Then sharing it with fellow fresh Aussie-grown food lovers around the country. It's a flavour foundation to memorable meals, and sometimes the hero too. At Weyhill Farm we believe garlic makes every thing delicious.

Activated Charcoal, Tea Tree and Poppy Seed Soap by Barany Natural Soap.
Barany Naturals make a variety of handmade, all natural and chemical free products that are nourishing for the skin, good for your soul and gentle on the environment.